CHOOSE A GOURMET BREAK CENTRED ON A HIKE ALONG THE GR10 OR GR65
Tea Room - Gourmet Grocery Store - Trouvailles Gift Shop
On the square in front of the St Julien church, a pretty terrace sheltered by an awning captures the passerby's attention. It contains an invitation to tickle your tastebuds... Trouvailles Gift Shop in Pays Toy!
Chalet Mina is also a meeting place, and was formerly a grocery store, although the under 80s will not be able to remember!
Béatrice and Dominique, sensitive to the soul of the house they have chosen so that their guests can create their own memories, have remodelled the premises to create a delicatessen, shop, café and meeting place.
You are sure to enjoy a drink on the terrace when the sun is shining, or wrapped up cosy inside during your winter holidays.
A long time ago, the village grocery store enabled everyone to get supplies of common medicines, wool and sewing accessories, gas and coal, along with other provisions, thus avoiding having to go down to Luz Saint Sauveur at a time when the only method of transport was on foot or by donkey on Monday market day. It was also one of the cafés in the village where people could meet up.
Béatrice and Dominique wanted to revive this convivial space and provide the opportunity for visitors to try local and regional products. We can now find a delicious gourmet grocery store, also featuring a selection of wines and regional aperitifs such as Madiran, Pellehaut or Uby de Gascogne.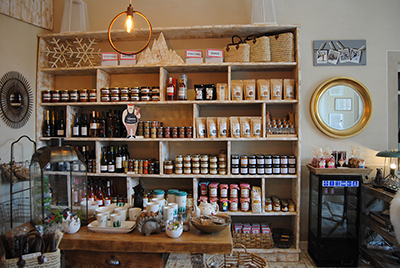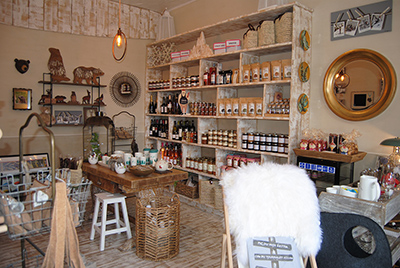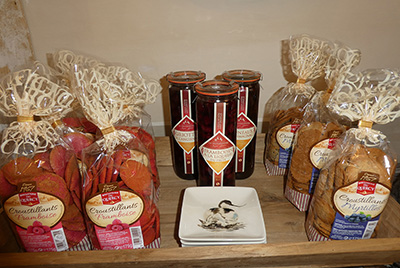 Duck pâtés or foie gras rub shoulders with Tarbais beans, jams from Nousty, honey from Les Escales at the base of the gorges of Luz and dry pastries from Quercy. A special favourite are "Rue Traversette" vegetable spreads and Cap Ferret soups...
During your walk, enjoy a small break in the shade of Saint Julien or in the dining room to eat a lunch perhaps including a charcuterie board from "Pierre Sajous" or cheese from the Pyrenees. We also invite you to try as many toasts or savoury tarts with salad as you like. On the sweet side, you will love the pancakes, cakes or homemade pastries of the day... Try the organic teas and infusions, they're delicious.
Hot or fizzy drinks, ice cream, local beers or a glass of wine will round off your gourmet moment.
And who knows… maybe you will enjoy the summer entertainment and the board games on offer.
The place has come to life again.
And represents a convivial space for the pleasure of all - a 19th century property redecorated with the taste and talent of its new owners.
The Trouvailles Gift Shop in Pays Toy is synonymous with "small pleasures to give or share": a choice of French brands including warm plaids, quality linens, posters and canvases of mountain scenes, cushions, lamps and other decorative objects as well as small items of furniture.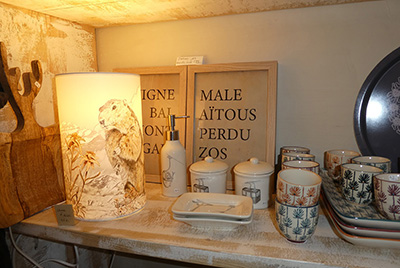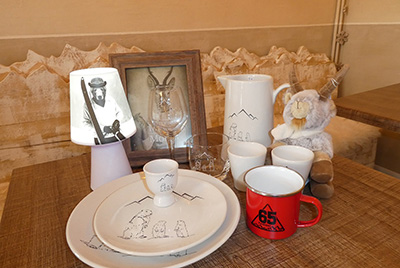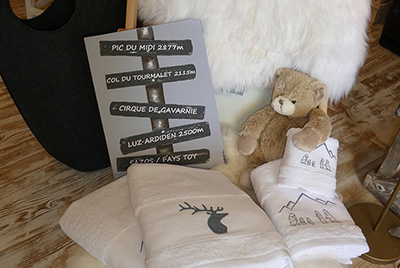 A souvenir to take back with you in your suitcase so that the dream lingers on...